2023 Hornest Nest Cuboree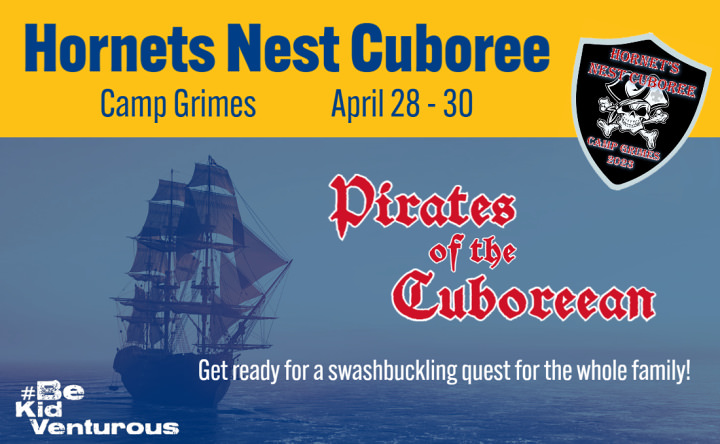 PIRATES OF THE CUBOREEAN!
HORNETS NEST DISTRICT
CAMP GRIMES, NEBO, NC
Arrghh! Calling all Pirates! Get ready for a swashbuckling adventure for the whole family! Captain Grey Beard needs new recruits to search for the long-lost treasure of the pirate known as Sea Wolf. Many moons ago, he and his motley crew sailed across Lake Calhoun and hid treasure & clues around Camp Grimes… only the worthy Pirate will be able to solve the riddles & recover the treasure!
Ready your Cubs and families now! We are a band of pirates that welcomes
the whole family… the more the merrier! Yo, ho, ho!!!

WEEKEND PIRATE ACTIVITIES…
Family camping, Fishing, shooting sports & crew-building activities!
Pirate treasure hunt!
Camp Grimes Dining Hall…
Tasty meals prepared and served by Catawba Lodge OA Youth & Leaders!
Celebration Campfire program…
Once we recover the pirate treasure! Scout Spirit and Fellowship!

REGISTRATION OPENS FOR PACKS ON MARCH 6, 2023!!! Registration closes on April 7th.
ALSO, please consider joining Captain Grey Beard to help lead this motley crew! Open positions include:
Program Director, Registration Director, Quartermaster, Photographer, Medical Officer, Station Support
| File Name | Description | |
| --- | --- | --- |
| BSA Health Form | All participants are required to submit a completed, up to date BSA medical form during check-in on Friday night to participant in the course. In addition, each participant must include a copy of the front and back of his/her medical insurance card. | Download |
| HN Cuboree 2023 Info Packet | Information packet for the 2023 Hornets Nest Cuboree: Pirates of the Cuborean | Download |