Recharter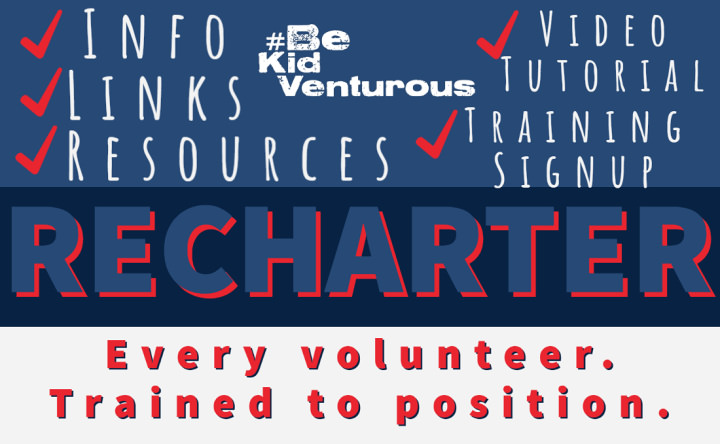 Recharter 2023
The 2023 recharter season is just around the corner. Below is some important information for this year.
Now is the time to start asking your families if they plan to recharter and collecting fees if necessary. Note,

recharter fees are non-refundable

. You may make changes and remove Scouts/Leaders on your recharter roster until you click submit. Unless there is an issue with your recharter, it will be posted within 48 hours of submission to the council.
Everytime you enter your recharter, after it has been started, the first thing you should do is click the refresh button.
Crossover Scouts should be transferred via my.scouting.org prior to submitting your recharter.
Hornets Nest unites will need to change their terms to 13 months and have recharter completed by February 15, 2023. Recharter will open January 1, 2023.
Apache and Etowah units will keep a 12 month term and must be completed by March 15, 2023. Recharter will open Febraury 1, 2023.
Be sure to email your District Executive the Annual Charter Agreement. (found below)
---
Steps to follow when processing your recharter are:
Ensure that the currently registered unit Key 3 leaders are correct in My.Scouting so they can e-approve member and charter renewals. This is essential and must be done as soon as possible since changes at this step can delay the subsequent steps.
Check that all youth and adults are currently registered with the unit appear on your roster in my.scouting.org.

Complete the on-line Unit Recharter process. This can be found by logging into Internet Advancement 2.0 and clicking on Recharter -

Internet Recharter Log In

Applications for any new adults must be uploaded into the charter renewal as well as their Youth Protection Training Certificate and Criminal Background Check Authorization. This includes any adult who is moving from a Tiger Parent or Lion Parent into a leadership position and those who have turned 18 and are moving from a youth position to an Assistant Scoutmaster position or that is being entered as a UP, VP or EP (Unit Participant, Venturing Participant or Exploring Participant). You will need to enter any adult who is on the charter as an AP or LP and moving into a leadership position or a youth moving into a new leader position or into a UP/VP or EP as New Adult and upload all required documents.

Applications for any new youth must be uploaded into the charter renewal.

Confirm that all required information has been completed on the adult and youth applications before uploading the documents.

Pay the 2023 BSA Registration fees and the Council Fees online through the

Internet Recharter site.

The preferred method to pay the recharter and council fee is via e-check or Credit Card.

Approve the on-line Unit Recharter via link in email.

This must be completed in order to finalize the Charter Renewal.

Note: A unit's rechartering application cannot be approved by the National Service Center until all steps are complete.
If you have chosen to pay by E-Check, please be aware that an email will be sent to you with instructions for verifying two micro deposits. These micro deposits must be validated by you in order to complete the payment process. Your charter renewal will not complete the submittal process until the micro deposits are confirmed.
To ensure a timely process of your Charter Renewal, be sure your CURRENT key leadership (including the COR and IH) have established their My.Scouting accounts and are ready to make approvals of new members and the charter renewal application. This message is only being sent to the unit Key 3 listed in My.Scouting If your Scouting role has changed contact Laura Bachelder
Your Unit Commissioner, District Commissioner, and District Executive are great resources to help you through this process.
---
---
| File Name | Description | |
| --- | --- | --- |
| Annual Charter Agreement Form | | Download |
| Pro Rated Fee Chart 08.01.22 | | Download |
| Recharter Checklist | | Download |
| Recharter User Guide | Step-by-step guide to recharter. | Download |